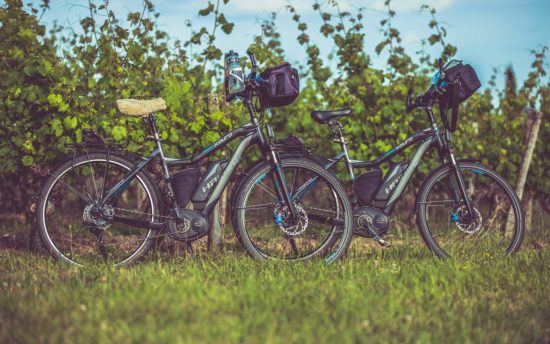 At Cascina rosa b&b you can rent Mountain bikes and electric bicycles ( E-bikes ) and enjoy a ride through the the hills of Monferrato!
Through the service offered by Monferrato.bike in Moncalvo (3 kms from the b&b) you can rent bikes for one day, for the week-end or if you want for all your stay in Monferrato, taking advantage of the service of bike's transport directly to Cascina rosa b&b. Nothing better than a healthy ride through the Monferrato hills for an active holiday or just for some exercise after a dinner at the restaurant. This is an experience also for who is not well trained: Monferrato.bike offers a big number of the latest electric bicycles ( E-bikes ), who fit perfectly to who is not convinced yet to climb the hills.
You can contact directly the Monferrato.bike ( here also their Facebook page) before your stay at Cascina rosa b&b or you can ask us by  e-mail more information at the moment of the booking: we will be pleased to help you organize your bike experience in Monferrato!
E-bikes are true ecological bicycles, other than silent, relaxing and enjoyable to ride. You can save some energy with them when the route becomes too difficult.
If you want you can book also a professional cycle-guide for your tour in Monferrato, ask Monferrato.bike more informations about it.
You can rent Mountain bikes and E-bikes with the possibility to have the bikes at Cascina rosa b&b for the start or somewhere else for the arrival.
The Mountain bikes and E-bikes you can rent in Monferrato for tours in provinces of Asti, Alessandria and Vercelli: